Fiesta Dual Lane Wet/Dry Slide Combo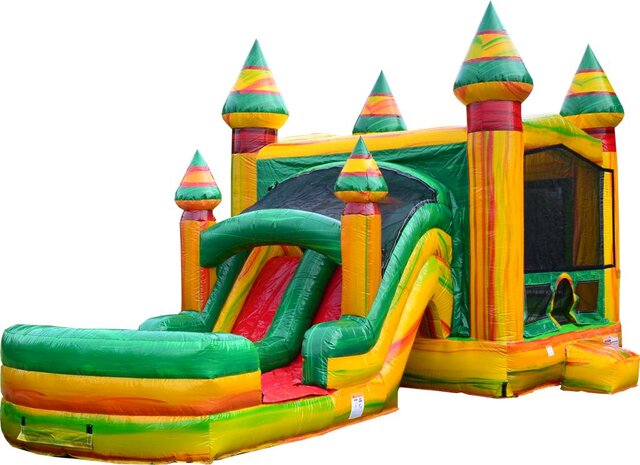 Setup Area: 33 L x 15 W
Actual Size: 31' L x 13' W x 15' H
Description
FEATURE: Dual Lane Slide, Bounce House, Non-Slippery Climb Wall, Basketball Hoop, Tunnel, Obstacle Pop Up, Emergency Exit, Waterproof Business Pocket, Business Banner and Attached Inflated Splash Pool
Introducing the Fiesta Dual Lane Wet/Dry Slide Combo – the ultimate inflatable entertainment solution for endless fun and excitement! This versatile and eye-catching inflatable combo is designed to delight kids and adults alike with its vibrant colors, exciting features, and high-quality construction. Bring the joy of a festive carnival to your next event or backyard party with this incredible inflatable attraction.
With the Fiesta Dual Lane Wet/Dry Slide Combo, you get more than just a bounce house – it's a complete entertainment experience! This fantastic inflatable combo boasts an impressive array of features that cater to both wet and dry conditions, ensuring non-stop amusement no matter the weather. The dual-lane slide allows for thrilling races and friendly competitions, while the spacious bounce house provides ample room for jumping and playing.
For those looking to test their climbing skills, the Fiesta Dual Lane Wet/Dry Slide Combo comes equipped with a non-slippery climb wall that is perfect for scaling safely. The attached inflated splash pool at the bottom of the slide offers a refreshing break from the action, making this inflatable combo a fantastic choice for hot summer days.
The fun doesn't stop there! The Fiesta Dual Lane Wet/Dry Slide Combo also includes a basketball hoop, tunnel, and obstacle pop-ups, providing endless opportunities for physical activity and imaginative play. An emergency exit ensures the safety of all users, while the waterproof business pocket and customizable business banner make this inflatable combo an excellent investment for party rental companies and event organizers.
Constructed with durability and safety in mind, the Fiesta Dual Lane Wet/Dry Slide Combo is made from high-quality materials designed to withstand rigorous use. The inflatable structure is easy to set up and deflate, making it perfect for both temporary events and long-term installations. Plus, its vibrant, attention-grabbing design is sure to be a hit at any gathering.