Bounce House Rentals In DeSoto, TX & Surrounding Areas Product Name
$0 Product Name
$0 Product Name
$0 Product Name
$0 Product Name
$0 Product Name
$0 Product Name
$0 Product Name
$0 Product Name
$0 Product Name
$0 Product Name
$0 Product Name
$0 Product Name
$0 Product Name
$0 Product Name
$0 Product Name
$0
When it comes to fun, Jump & Slide Rentals Delivers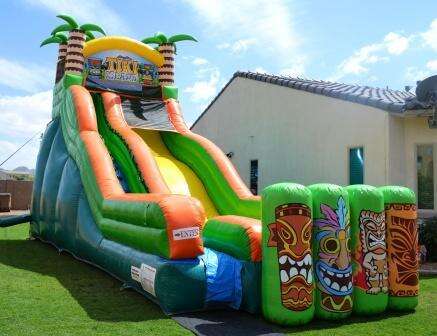 For the best bounce house rentals DeSoto, TX has to offer, look no further. At Jump & Slide Rental, we have the largest selection of the best bounce house rentals in the state of Texas. While it's true we have the bounce bounce house rentals DeSoto has to offer, we also deliver bounce houses and other party rental equipment to nearby Fort Worth, Dallas, TX and many other surrounding areas.
We have been the party rental service of choice for everyone, from homeowners planning small backyard bashes for their kids to corporate events in the mall. We have a wide selection of bounce houses, available in various sizes and in just about every theme you can think of and more. That is why we are one of the most sought-after bounce house rental in the city.
Our team of experts makes sure that every bounce house is inspected, cleaned, and delivered on time. When the bounce houses arrive, they are set up by our professional team hours before your party starts. That way, you don't have to worry about getting everything set up in time. Whether you're hosting a birthday party in your own neighborhood, a Vacation Bible School at your church, or a school field day, we have just the fun inflatable rentals you're looking for.
Are you looking to hire a bounce house or a few of them for your party? Feel free to browse through our inventory here and book the ones you want. However, we are also just one phone call away. A Large Selection of Inflatable Rentals in DeSoto, TX
Over the years, we've amassed a pretty large selection of inflatables here at Jump & Slide Rental. However, that is good news for our clients who can now rent just about any type or size of inflatable they want and even a few that they think everyone may enjoy. We've got a unique selection of inflatable rentals that go beyond just your run-of-the-mill type inflatable water slides, bounce houses, and obstacle courses. Speaking of which, we've also got obstacle courses for adults!

You can choose inflatables across dozens of themes, too, which makes hiring an inflatable for a themed birthday party or perhaps an event easier. Some of our most popular themed inflatables include variations of the Unicorn theme; we've got mermaids, dinosaurs, and sports themes, amongst others. In addition, we've also got holiday themes like Halloween-themed, Christmas themed and other event-themed inflatables.

You can check out our complete list of inflatables here. All inflatables can be delivered across DeSoto, Texas, and even as far as Dallas Fort Worth at the time of your choosing after they are booked. Just make sure that you know the 'order by date'.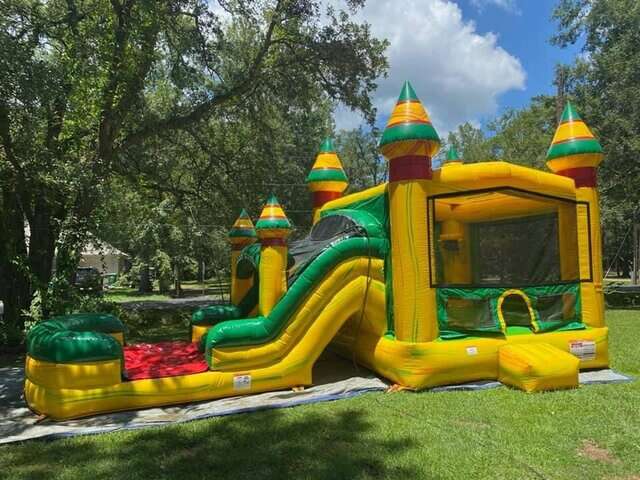 Why Choose Our Bounce House Rental and Water Slide Rentals DeSoto, TX
Well, for starters, we have probably the largest selection of water slide and bounce house rentals in the city. However, in addition to that, there are many other reasons why people choose our party or water slide rentals over others. Here are a few reasons why people in the city and even nearby cities call us:

Excellent customer service – We have made it immensely simple for anyone to book a water slide, bounce house, or obstacle course online. All you need is to choose the item, pick a date, and pay for it. Our team will make sure that it is delivered on time and set up before the party. However, we have a customer support team that's always around to answer questions or lend assistance if needed.

Competitively priced rentals – Even though we have the latest and greatest inflatable rentals, along with a laundry list of other party rentals like tables, chairs, etc. they are all priced competitively. Our clients can always be sure that they are taking advantage of the best prices in the city or even in the state.

High-quality party rentals – Our water slides happen to be one of the most popular rentals in summer. However, it's not only because people want to enjoy a backyard bash in the pool but also because these slides are of excellent quality. The same goes for every other rental we have available. Speaking of which, our team inspects every rental before they are delivered to you ensuring safety and cleanliness.

Free delivery and installation – Regardless of where you are based in the city or near it, we don't charge for delivery or installation separately. In fact, it is included in the price you see on our website. If anything, it makes budgeting for upcoming birthday parties or any other event easier.

Transparent pricing – Our pricing does not include any hidden service charges or taxes. What you see on our website is what you will pay. The same goes for if we quote a price for bulk or long-term party rentals.
The Most Trusted Party Rentals In DeSoto, TX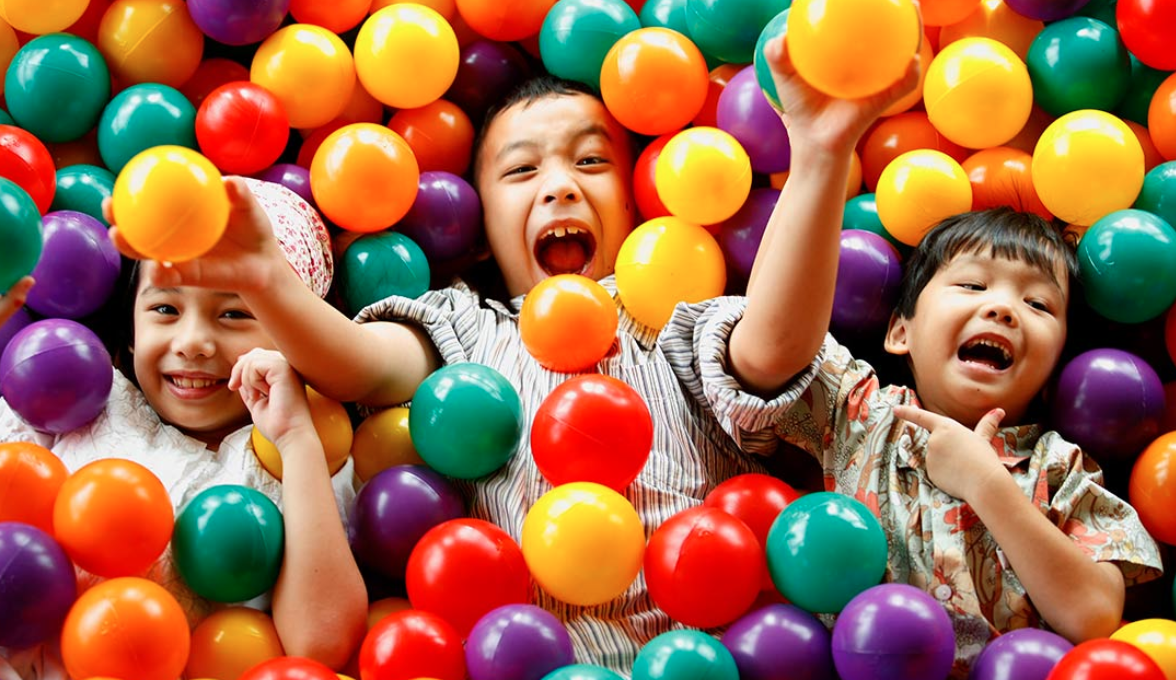 Whether it is slides, obstacle courses, tents, tables or toddler bounce house rentals, or any other type of rental, we have always been the service of choice for many in the city. In fact, we are regarded as being the most trusted party rental company because our clients trust us to deliver their items on time and remove them after the party has ended.

We also make sure that every item delivered is closely inspected to ensure that it is free from defects. We take pride in having the best party rentals, bounce house etc. Our team will clean and sanitize every item both prior to delivery and after it is picked up from the venue. Take a look at all of our items here.

Since safety is always a major priority, all items are set up by professionals, and in some cases, we will have a professional around for the duration of the party. So, you can be assured of everyone's safety.
Jump & Slide Rentals Delivery Area
Free delivery to this areas DeSoto, Red oak, Ovilla, Glenn heights, Cedar Hill, Lancaster, Waxahachie, Midlothian, Palmer, Oak Leaf, Duncanville, May pearl, Hutchins, Wilmer call our staff if your city isn't on the list for delivery fees.
Have a question about our party rental? Need help choosing the right dry slides, cotton candy machines, dry slides, water slides, bounce houses, or tent rentals for your party? Our team of experts will be more than willing to assist.
Call us today for assistance or to get a quote if you are planning a major or long-running party. You are also free to browse through our inventory of available party rentals on our website.
What Customers are Saying
"My kids had the best time at their 5th birthday party this weekend thanks to Jump and Slide Rentals! They have an amazing selection of bounce houses, water slides, and concession options that kept the kids entertained and happy. Definitely recommend them to anyone looking to make their event extra special!"
- Charlotte Smith
"I recently held a family reunion and I wanted to thank Jump and Slide Rentals for helping to make it such a success! We rented a couple of bounce houses and a water slide and everyone loved them. The prices are very reasonable and the delivery and setup was on time and stress-free. Highly recommend!"
- John Doe
"As a party planner, I'm always looking for reliable and trustworthy vendors for my clients. Jump and Slide Rentals is a top choice for me every time. Their selection of bounce houses, water slides, and concessions are great and the customer service is top-notch. I always recommend them to my clients!"
- Hannah Lee
Previous
Next
Recently
Viewed