Chair & Table set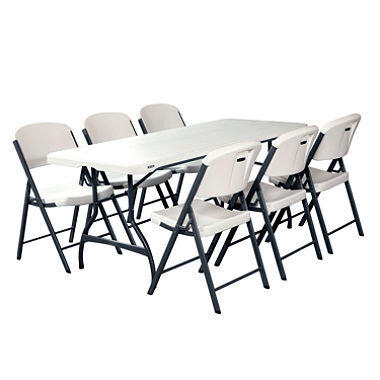 Actual Size: table 2x6
Age Group: all ages
Description
Don't leave your guest standing all day long! Make sure you are prepared and rent enough sets to accommodate your family members and guest the day of your event or party our sets come with one table and 4 chairs.
Ensure your guests have a comfortable and enjoyable experience at your event with our Chair & Table Set rental! No need to let your family and friends stand all day long – our sets provide the perfect seating solution for any gathering, whether it's a birthday party, a family reunion, or a community event. Each set comes with one table and four chairs, offering a practical and stylish option for accommodating all your guests.
Our Chair & Table Sets are designed with your guests' comfort in mind, ensuring that everyone can relax and enjoy your event without feeling cramped or uncomfortable. The sets are versatile and can be easily arranged to suit any party layout, making them an ideal choice for various event types and sizes.
By renting enough Chair & Table Sets to accommodate all your attendees, you can create a welcoming and inclusive atmosphere that encourages conversation and camaraderie. The simple yet stylish design of our sets will complement any event theme or décor, adding a touch of elegance and sophistication to your gathering.
Don't let your guests stand all day – book our Chair & Table Set rental today and provide comfortable seating for everyone at your event! With their practical design and stylish appearance, our sets will not only enhance the atmosphere of your gathering but also ensure that your family members and guests have a memorable and enjoyable time.