18ft Tsunami Waterslide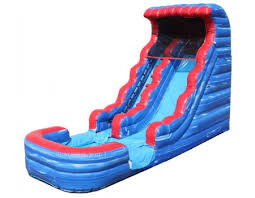 Description
This 18 Tsunami giant slide rental can be rented wet or dry. This slide will entertain children and adults alike for hours at your next event.
This 18 Tsunami slide is the perfect slide for any gathering, party or event. There is a full pool at the bottom adding a cool ending to an even cooler slide. there is an inflatable bottom adding the safest landing in the industry. Inflatable pool bottoms gives the riders a soft landing when water is not being used.
A Tsunami of Fun - Wet or Dry!
Whether you're looking to make a splash or prefer the adrenaline rush minus the water, the 18ft Tsunami Waterslide is your ticket to unending amusement. Its versatility in both wet and dry settings is a feature I couldn't be more grateful for!
More than Just a Slide
Let me tell you, this isn't just any slide; it's a full entertainment package! Perfect for gatherings, parties, or any event you could think of. It's kept both the kiddos and us adults hooked for hours. Pure, unadulterated joy!
Safety Meets Fun
What makes the 18ft Tsunami stand out, though, is its stellar safety design. The slide ends in a full pool that adds a cool ending to the thrilling ride down. But that's not all. The inflatable bottom offers the safest landing in the industry. Even on dry days, riders are guaranteed a soft landing, thanks to the ingenious inflatable pool bottom. Safety + fun, a combo you can't beat!
Easy Booking and Great Coverage
Booking the slide couldn't have been easier! Just picked a date and it was ours. And the best part? They service Red Oak, Glenn Heights, Midlothian, and surrounding areas. Convenient and customer-friendly, what more could one ask for?If you're planning an event, don't think twice. The 18ft Tsunami Waterslide is a must-have. Get ready to ride the wave of fun! Ready to booked please chose your date or call us to reserve your slide today we service red oak glenn heights midloathian and surrounding areas.