16ft LIL Squirt Waterslide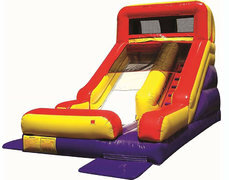 Description
ready to have so fun? with our 16 wet/dry slide you are bound too enjoy your day outside in the sun. this slide is one of our best rentals keeping your kids entertain all day long.with bright colors and a spraying mister they can stay refresh trought the event the 16 inflatable waterslide is sure to be a huit at your party, gathering or event proudly serving the south dallas and north ellis county area. booekd today or call us for more information
Introducing the delightful 16ft LIL Squirt Waterslide - the ultimate choice for unforgettable fun and entertainment under the sun! This wet/dry slide is one of our most popular rentals, designed to keep your kids captivated and entertained all day long. With its vibrant colors and refreshing spraying mister, your little ones will stay cool and excited throughout the event.
Key Features:
16 feet tall for a thrilling ride
Wet/Dry slide for versatile use
Bright, eye-catching colors to attract kids
Built-in spraying mister to keep riders refreshed
Perfect for parties, gatherings, and events
Proudly serving the South Dallas and North Ellis County area
The 16ft LIL Squirt Waterslide is the perfect addition to any outdoor party, gathering, or event, offering hours of excitement for children of all ages. The built-in spraying mister ensures a refreshing experience, keeping everyone cool as they slide down the thrilling 16-foot height.
Whether it's a birthday party, family reunion, or just a fun day outdoors, the LIL Squirt Waterslide is sure to be a huge hit. Don't miss out on the opportunity to bring joy and excitement to your next event. Book the 16ft LIL Squirt Waterslide today or call us for more information!