15ft Ocean Battle Water Slide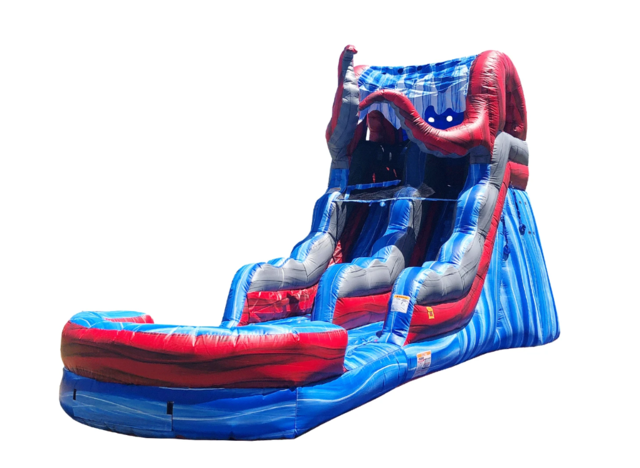 Description
Great fun to be had by both kids and adults alike. The 15 ft ocean battle includes a water bladder at the top for an even distribution of water down the slide for a fun and fast ride. If it's too cold for water during the fall and spring, this slide is great to also be used dry and have a sliding good time as well. This slide is one of our top renter due to the eye-catching design and colorful colors let your kids dive in the ocean an enjoy the event. Don't wait, booked today or call us for more information.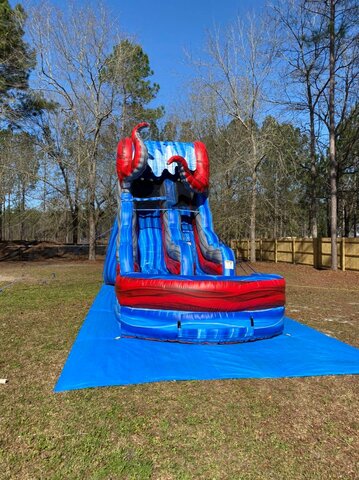 15ft Ocean Battle Water Slide – the ultimate inflatable entertainment that brings the excitement of the ocean to your backyard or event! Designed to captivate both kids and adults, this versatile water slide offers endless fun and thrilling rides, making it the perfect addition to any gathering or celebration.
The 15ft Ocean Battle Water Slide is a unique and eye-catching attraction that will have everyone talking. Its vibrant colors and ocean-themed design transport riders into an underwater adventure, creating an immersive experience that will leave a lasting impression. This water slide is sure to be the center of attention at any event, and its popularity makes it one of our top rental choices.
One of the standout features of the 15ft Ocean Battle Water Slide is its innovative water bladder system at the top of the slide. This ingenious design evenly distributes water down the slide, ensuring a smooth, fast, and enjoyable ride for all. Kids and adults alike will delight in the exhilarating rush as they speed down the slide and plunge into the refreshing splash at the end.
Don't worry if it's too cold for water play during the cooler months – the 15ft Ocean Battle Water Slide is designed for year-round fun! Simply use the slide without water for an equally thrilling dry slide experience, perfect for fall and spring events.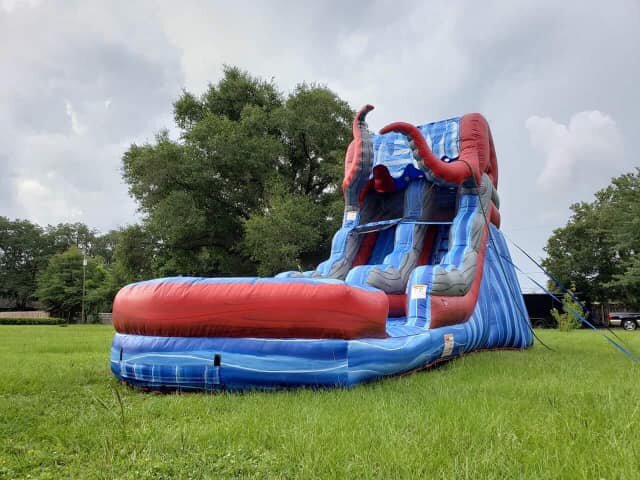 Don't let your next event be anything less than unforgettable – dive into the excitement of the 15ft Ocean Battle Water Slide and make a splash at your gathering. Book today or contact us for more information on how you can bring this thrilling inflatable attraction to your event. Experience the exhilaration of the 15ft Ocean Battle Water Slide and let the oceanic adventure begin!